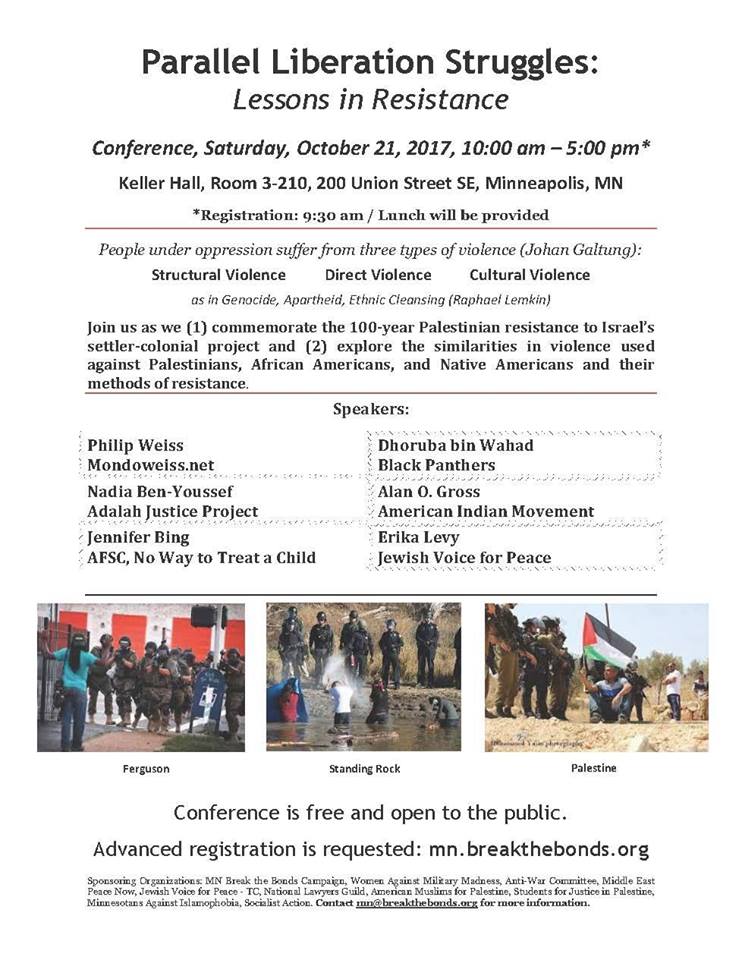 Saturday, Oct. 21
10:00 am – 5:00 pm
University of Minnesota, Keller Hall
Room 3-201
200 Union Street SE
Minneapolis, MN
Facebook: https://www.facebook.com/events/1630066917014887/
Registration: 9:30 am, Lunch provided
People under oppression suffer from three types of violence (Johan Galtung): Structural violence, direct violence, cultural violence, as in Genocide, Apartheid and Ethnic Cleansing (Raphael Lemkin)
Join us as we commemorate the 100-year Palestinian resistance to Israel's settler-colonial project and explore the similarities in violence used against Palestinians, African Americans and Native Americans and their methods of resistance.
Speakers:
Philip Weiss, Mondoweiss
Dhoruba bin Wahad, Black Panther veteran
Nadia Ben-Youssef, Adalah
Alan O. Gross, American Indian Movement
Jennifer Bing, AFSC
Erika Levy, Jewish Voice for Peace
Free and open to the public. Register in advance at mn.breakthebonds.org.