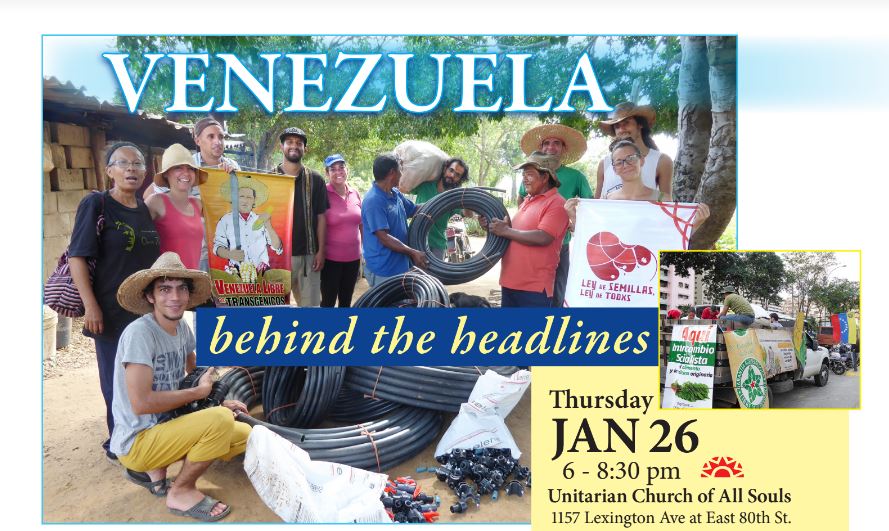 Venezuela behind the Headlines: The Other Side of the Story
Thursday, January 26

,

6-8:30 PM

, Unitarian Church of All Souls, Manhattan
Daily news reports continue to paint a dire picture of hunger and misery in Venezuela, while, just before leaving office, Obama renewed an executive order declaring Venezuela a threat to US national security, with accompanying economic sanctions. What is the political context behind these developments and what are the on-the-ground realities in Venezuela today? What are the prospects now for Venezuela and Latin America under the presidency of Trump? How can anti-intervention/anti-imperialist activists separate fact from fiction and stand in solidarity with the Venezuelan people at this time? Come hear from two seasoned activists and experts on Venezuela who have just returned back from there. Join them for lively discussion and Q&A, plus a fascinating slideshow of images you won't see in the media.
William Camacaro, MFA, originally from Venezuela, is co-founder of the Alberto Lovera Bolivarian Circle of New York and is an artist, radio host at WBAI, Pacifica Network and activist in New York City.
Christina Schiavoni is an activist and scholar who has been following food politics in Venezuela for the past decade and is currently doing PhD research on this topic, based at the International Institute of Social Studies in The Hague, Netherlands.
The discussion will be moderated by Suzanne Ross of International Concerned Family and Friends of Mumia Abu-Jamal and Isolina De La Cruz of the Alberto Lovera Bolivarian Circle of NY.
This event is free and open to the public. Food will be served.
Location: Unitarian Church of All Souls Church, 1157 Lexington Avenue at East 80th Street, Manhattan, New York City
Co-sponsored by The Alberto Lovera Bolivarian Circle of NY; International Action Center; International Concerned Family and Friends of Mumia Abu-Jamal; The MOVE Organization; Nation Time Judicial Research; the ANSWER Coalition; and others (list in formation)