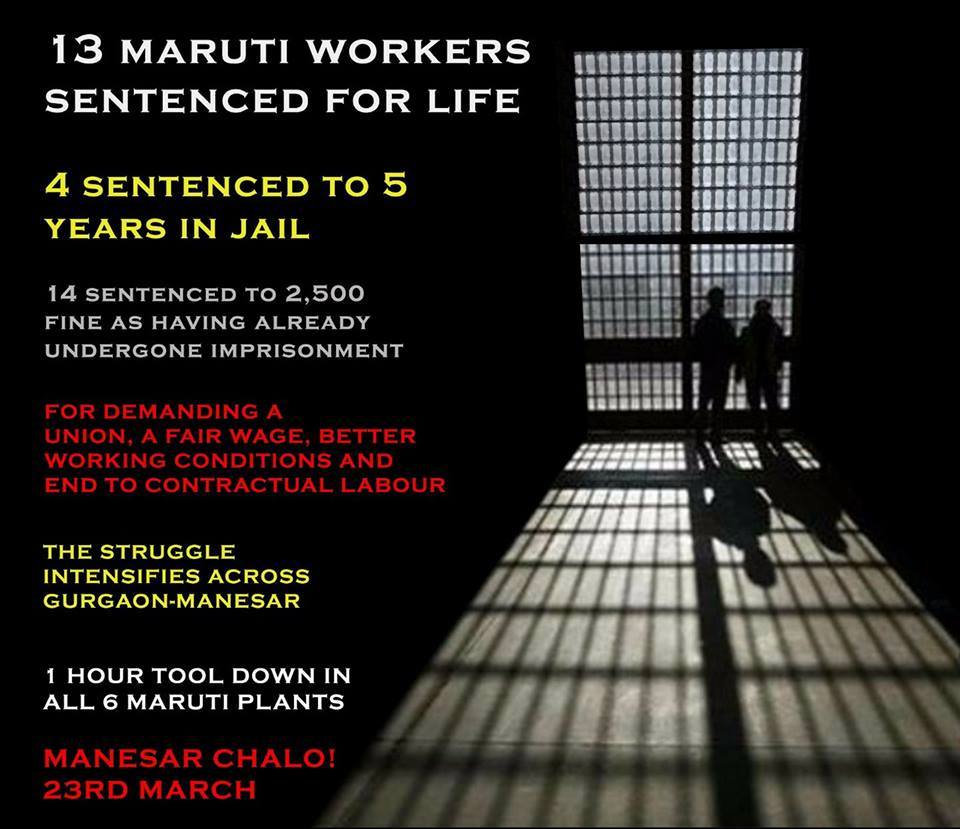 Thursday, March 23
5:00 PM
Indian Consulate. NYC. 64th Street
New York, New York 10065
Facebook: https://www.facebook.com/events/401055433601396/
'Rule of law' at the service of ruling class.
On March 18, the Gurgaon sessions Court (Haryana, India) sentenced 13 Maruti-Suzuki Auto workers to life imprisonment. The convicted are all members of the union body that began a movement to organize in 2011. The conviction of these workers is a shameful example of how judicial systems around the world are playing to the tunes of corporate interests. Another 4 workers have been sentenced to 5 years imprisonment, out of which they have already served 4 years in jail. 14 workers are to be released with Rs. 2,500 fine as having undergone their punishment. In the absolute lack of evidence, the court has been forced to admit that the 117 workers acquitted after having spent close three years in jail were illegally detained, and wrongfully confined and it was an unlawful arrest. The criminalization and false imprisonment of these workers will continue to be challenged by workers in the court and on the streets.
Let's send a message to the Indian Consulate that we are in Solidarity with the Maruti Workers. This action will coincide with the Martyrdom day of Indian Revolutionary Bhagat Singh and a mass rally in Manesar.
Release the 13 Maruti workers, the prisoners of class struggle!
Organizers:
Global Workers Soldarity Network
Labor for Palestine