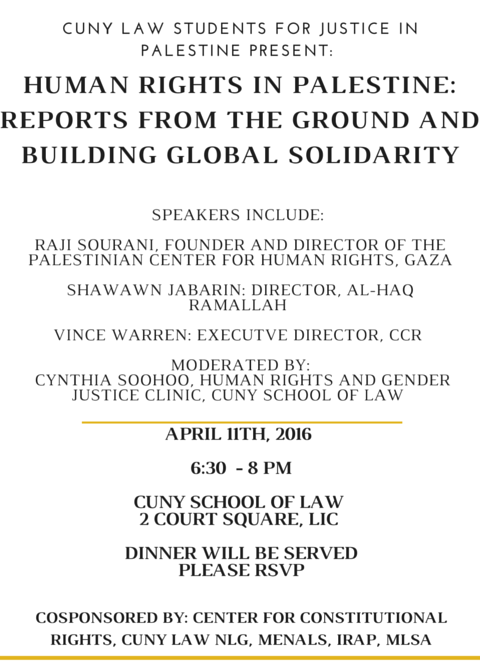 Monday, April 11
6:00 pm
CUNY School of Law, 2 Court Square, Long Island City, NY
Facebook: https://www.facebook.com/events/1583663571951034/
Please join CUNY Law School Students for Justice in Palestine and the Center for Constitutional Rights (CCR) for a special evening with leading Palestinian human rights defenders Raji Sourani and Shawan Jabarin, who will be joined by CCR Executive Director Vince Warren. In this rare visit to the United States and on occasion of their first public event, Raji and Shawan will provide timely perspectives from the ground in Gaza-under-closure and in the aftermath of the summer 2014 offensive, and the dynamic situation in the West Bank, including East Jerusalem. They will also discuss ongoing efforts to protect basic human rights and struggles for accountability for widespread violations, including before the International Criminal Court. Vince Warren will discuss the growing Palestine solidarity movement and some common themes reflected in the fight for human rights in the U.S. for communities of color, based upon a recent CCR delegation to Palestine.
Room: 1/203
CUNY School of Law
2 Court Square, Long Island City, NY 11101
E/M/G/7 to Court Square
N/Q to Queensboro Plaza
R to Queens Plaza
Doors open at 6:00 PM. Dinner will be served!
Cosponsors: Center for Constitutional Rights, MENALS, CUNY Law NLG, MLSA, IRAP, LALSA