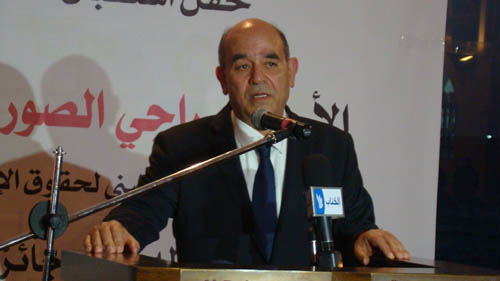 Wednesday, April 20, 2016
3:00 PM – 4:30 PM
New America
740 15th St NW
Suite 900
Washington, DC 20005
RSVP: http://newamerica.cvent.com/d/4fq46n/4W
A conversation with Raji Sourani, founder and director of the Palestine Center for HumanRights & Shawan Jabari, general director of the legal organization Al Haq.
In the wake of failed negotiations and no political horizon, the Palestinian leadership has indicated its intention to internationalize the solution to the Israel/Palestine conflict and to pursue claims and accountability through international legal mechanisms available to them since the United Nations recognized Palestine as a state in November 2012.
Join New America guests Raji Sourani and Shawan Jabarin and moderator Zaha Hassan for a conversation about what possibilities exist and what challenges Palestinians may face in international fora. Sourani and Jabarin will also discuss the current wave of violence in the region that began late September 2015 and what this may mean for the future of Israel/Palestine peace.
Raji Sourani is the founder and director of the Gaza-based Palestinian Center for Human Rights founded in 1995. PCHR holds Special Consultative Status with the Economic and Social Council of the United Nations and is an affiliate of the International Commission of Jurists. Sourani is the 2013 recipient of the Right Livelihood Award (also known as the "Alternative Nobel Prize") and is a 1991 Robert F. Kennedy Human Rights Laureate.
Shawan Jabarin is the General Director of Ramallah-based al-Haq, the oldest Palestinian human rights organization. A renown human rights advocate, Shawan currently serves as Vice-President of the International Federation for Human Rights (FIDH), a member of Human Rights Watch Middle East and North Africa Division Advisory Committee, and as an ICJ Commissioner.
Moderator:
Zaha Hassan, Esq.
Middle East Fellow, New America